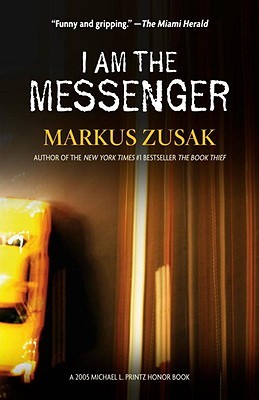 Markus Zusak – I Am The Messenger
The blurb:From the author of The Book Thief comes this darkly funny and ultimately uplifting thriller which proves that anyone can be extraordinary.
Ed Kennedy is just your less-than-average Joe who is hopelessly in love with his best friend, Audrey. But after he single-handedly manages to catch a bank robber, he receives a playing card in the mail: the Ace of Diamonds. This is the first message. Four more will follow. But before this particular card game can end, Ed will be changed forever . . .
Will Audrey love the man he has become?
My rating: 4/5
Tagged: mystery, young adult
Date I started this book: 03/01/2016
Date I finished this book 08/01/2016
What did I think? You know when the whole book rotates around the solution to a mystery and you can't wait to find out what's been going on? Well this was like Lost for me (the TV show) – the ending just disappointed, felt like a copout.
But this didn't mean that I felt differently about everything that had gone before – I loved it! And you may enjoy the ending. I had just hoped for more.
I loved the directions the story took, just my kind of whimsical, do-gooding, changing-lives story that I found full of warmth, smiles and also a mystery.